Social media have become an essential way for online traders and retailers to boost their sales and create a successful digital marketing strategy.
Against a backdrop where an abandoned basket is often linked to the length and complexity of the payment process, Social Selling looks like the miracle cure. This practice allows people to buy directly on social media, without having to go to a different platform.
In this article, Arcane will help you understand Social Selling and how it is essential to your digital marketing strategy.
What is Social Selling?
Social Selling allows you to sell your products directly on your social media. It is therefore different to marketing on social media because it doesn't redirect the customer to your website.
The entire conversion funnel is therefore followed on a single platform . For example, an internet user comes across your brand for the first time via an ad, clicks on the product to find out more, then decides to buy by clicking on the right CTA.
Here at Arcane, our experts know everything there is to know about three platforms that are particularly suited to Social Selling: Facebook, Instagram and Pinterest.
Shopping on Facebook
In 2020, Mark Zuckerberg's platform claimed to have 1.82 billion active users worldwide and every day. Thus, Facebook offers the opportunity to target massive audiences.
The social network now offers advertisers the chance to create their own shop page. This feature offers the advantage of a true digital shop window to help people find what they need and make a purchase rapidly.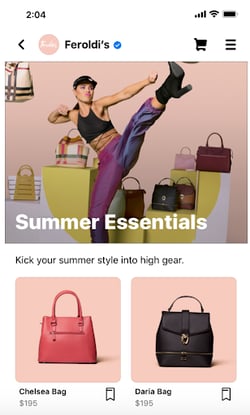 More precisely, a Facebook shop page is an entirely customisable platform created from a product catalogue. By adding personalised audiences for purchasing interactions to your advertising campaigns, you can easily target online shoppers who look around your shop or make purchase there.
Shopping on Instagram
Instagram is THE platform that is increasingly directing its features to making shopping easier.
There are several options open to you on Instagram: you can create posts where products can be bought directly via clickable tags. These tags enable people to find out more about the product (name, price, etc.) and to buy it directly.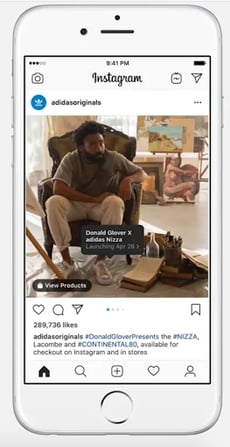 In addition, stories also drive sales. They can include a label, and a swipe up then takes the user to the page where they can buy the product.
Lastly, as on Facebook, advertisers can create an online shop, with the same features.
Shopping on Pinterest
In 2020, Pinterest really focused on shopping whilst remaining the n°1 platform for inspiration.
Ainsi, les célèbres épingles de Pinterest sont devenues de nouveaux leviers pour les annonceurs. Elles permettent désormais de réaliser directement un achat, via un simple clic, comme ci-dessous.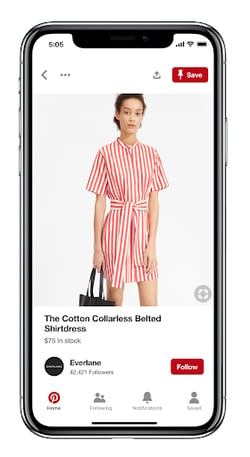 Lastly, Pinterest also offers a "shop" tab accessible from the boards.
Why invest in Social Selling?
Now that these platforms no longer hold any secrets for you, it's time to get a good understanding of the importance of Social Selling for your business.
We believe that social media are not just a way to drive traffic to your website or to ensure an excellent brand reputation.
Social Selling promotes conversions
Giving users the chance to buy straight away is a great way to convert them into customers.
According to a study carried out by Facebook, 80% of Instagram users decide to buy a product whilst browsing the platform. In addition, 46% of people asked, said they had made a puchase online or in a shop after seeing a product or service on Instagram
The Shopping feature on Instagram simplifies the purchasing process by allowing users to buy directly on the platform. The risks of an abandoned basket are therefore reduced.
Offer an optimal customer experience
Social Selling is a very direct approach to selling: the purchasing experience is easier and more fluid.
A study carried out by PwC shows that buyers are looking for efficiency and convenience above all when shopping. Social Selling meets this twin requirement.
Improving your ROI
The ROI (return on investment) from your social media allows you to measure the advantages you're getting from your Social Media strategy.
You may find this surprising: Social Selling is a channel that is not normally boosted by paid advertising. However, the ROI in social media can be defined as "the advantage you get from a social media strategy compared to the costs of that strategy."
Shops on social media allow users to spend time interacting with your brand, whether through likes, shares or comments. Price pins also trigger conversions.
All these aspects increase the ROI from your social media, enabling you to better understand the impact of your digital strategies.
5 top tips to help you get off to a good start
So much for the theory, now let's move on to the practice! Here are our 5 best practices to get you started with Social Selling.
The right photos and the right product feeds
Social media like Instagram and Facebook are like their own little worlds where appearance is often everything. Pinterest, even though it's much more than a generator of ideas centred on the user, is also a demanding platform in terms of aesthetics to ensure users are truly inspired.
In every case, the quality of your product photos should be your prime consideration.
These photos must be perfect, from a technical (format, quality of the photo, compression of the image etc.) and artistic point of view (the right light, good composition, attractive and not too artificial-looking).
Similarly: the the product data feeds that you send to your catalogue must be flawless. Make sure you publish data that is current and complete (price, image, availability, etc.).
Favour low-priced items
Social media aren't necessarily the first port of call for customers wanting to make a purchase. They are platforms that allow people to exchange and share information.
Consequently, they're not often planning to buy something: if they do, it will be an impulse buy. Costly products are likely to put them off, whereas cheaper items might trigger a purchase on a whim.
Hashtags: the secret to finding new products
Hashtags enable people to discover products. How? If people click on a hashtag link on a product, the link may take them to your page.
In addition, hashtags are also a good way of appearing on people's Explorer page. They encourage people to explore and may end up in triggering a conversion.
If you keep a regular eye on your hashtags, you'll get a good idea of the reach and engagement stimulated by your brand.
User-generated content: a real opportunity
User-generated content is an excellent way to engage potential customers. If an ordinary user or big influencer tests and uses your product, that's a very reassuring thing.
It brings a more realistic aspect to your brand by recontextualising it and putting it back in the hands of "real people" rather than models or actors.
Influencers and customers are your best ambassadors when it comes to exploiting this content. Thanks to this play of identifications, it's quite easy to take the content and share it on your own page. Adding the right tags to the content then leads to sales.
It's all a question of timing
With the unceasing flood of posts that fill social media, it's not easy to stand out from the crowd. To avoid users overlooking your content, you need to post it at the right time.
How do you work out what the right time is? The best solution is still to test different times. You will then see whether your targets are most active in the morning, the evening, during the week or at the weekend, for example.
As you can see, your marketing strategy extends well beyond the normal run of sales on your e-commerce site. These days, social media are a great asset for boosting your sales and offering your customers a new purchasing experience.