The customer journey from discovering a product to buying it is complex. The journey is made up of several touchpoints between the devices and the environments (physical and digital).
Consequently, consumers can begin their buying journey online but complete it in store. it is therefore essential to understand the impact of your online advertising on in-store sales.
This is how you will succeed in making the right decisions regarding your media investments. For that, Google launched Store Sales Direct (SSD).
Explore this feature with us and optimise your omnichannel approach!
What is Google Store Sales Direct?
SSD is a feature that allows you to import data on offline sales directly to Google Ads. It then makes the link between customer information relating to in-store transactions and Google Ads user information.
This link is possible thanks to matches between clicks on Google Ads and a unique identifier, such as an email address. The email address can be collected in store as part of a loyalty programme, for example.
Google Store Sales Direct makes use of the richness of your CRM data, because each transaction is linked to a click on a search engine ad. This makes it easier to see the impact of your online ads on your in-store sales.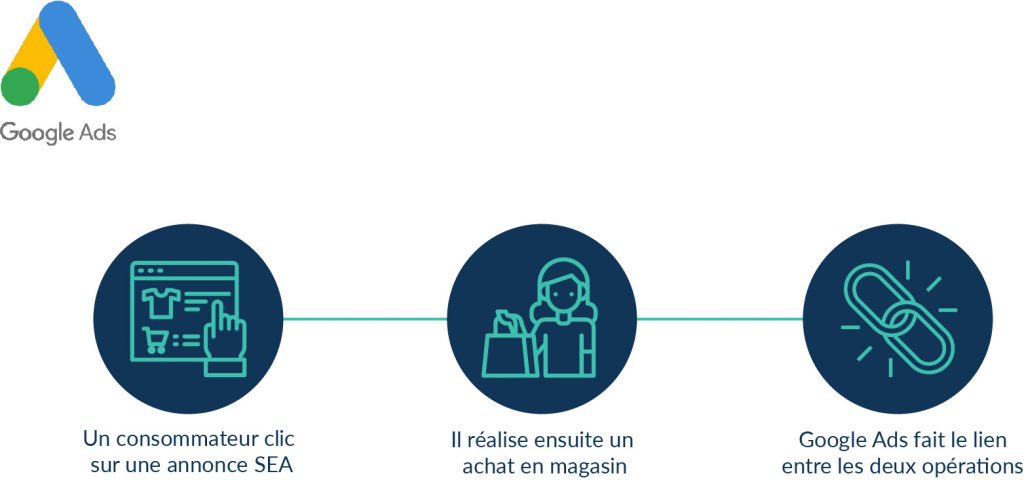 Google Store Sales Direct exploite donc la richesse de vos données CRM, chaque transaction étant liée à un clic sur une annonce SEA. Grâce à cela, vous pourrez mieux identifier l'impact de vos publicités en ligne sur vos ventes en magasin.
Configuring the tracking of Store Sales Direct conversions
There are a few steps that need to be taken to implement SSD:
Create a "Store sales" conversion action from your Google Ads account
As often as possible, import store sales data directly to Google Ads or use a partner to do it via the Google Ads

API

These data will then be used to match your customers' store sales data with clicks on your search engine ads
Store Sales Direct helps you to optimise conversions
The results of your campaigns are then easy to exploit on Google Ads so you can optimise your omnichannel performances. Don't forget to refresh your store sales data regularly for best results.
Firstly, you can see the impact of your SEA campaigns on your store sales and then test the management of your campaigns by building an omnichannel KPI (online and offline sales).
With that, you'll then be able to create a similar audience from your store sales data.
Store Sales Direct is an essential tool for understanding and adding value to your omnichannel strategies.