Here at Arcane, we often approach subjects related to the acquisition of new customers directly over the web.
In parallel with SEA, it is not unusual for an advertiser to launch a mobile app.
That's where things start to get complicated: how can you boost your visibility on app download platforms to avoid getting lost in the crowd? How can you get a good conversion rate on these platforms?
In response to these problems, Apple is offering dedicated campaigns in the App Store: Apple Search Ads (or ASA)
How do these ads work and how should they be set up? We'll be sharing our best practices with you in the article!
What are Apple Search Ads?
According to Apple's own definition, Search Ads "helps people discover your app". How? By positioning them at the top of the search results in the App Store.
In concrete terms, it means advertisers paying for a specific keyword to ensure that their app appears at the top of the App Store search pages.
This acquisition lever gives you the opportunity to position yourself in first place when it's relevant for users. This puts you in a better position than your competitors, despite well executed ASO (Apple Search Optimization).
One single ad is displayed at a time, but there are three formats to choose from: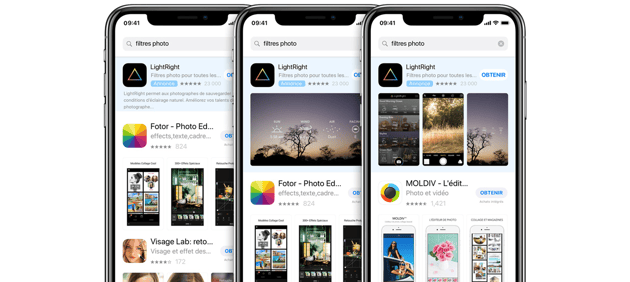 From left to right:
A simple banner with icon
Video in landscape format
Video or image inserts in portrait format
Please note: the CTA is always on the right and the ad is highlighted by a blue background.
There are two solutions on offer to meet advertisers' needs: Apple Search Ads Basic and Advanced.
Why use Apple Search Ads?
Optimise your conversions
ASAs are integrated in the App Store search results to offer the most relevant results to users.
According to Apple, the average conversion rate for these ads is 50%. Equally, 70% of users of the App Store use the "Search" function to find an app.
Adapting to users' behaviour
Apple Ads work in much the same way as Bing and Google ads.
However, different platforms often lead to different behaviours. Thus, keywords used by someone in the App Store search bar often consist of a single word.
Apple therefore offers different keyword management to tally with consumers' expectations.
Apple Search Ads Basic VS Advanced: the differences
Basic
The so-called Basic version of Apple Search Ads is, as its name suggests, the simplest way to get started with paid SEO in the App Store with no need for great expertise.
To be exact, Apple explains that this option is particularly well-suited to developers who don't have much time to devote to paid SEO, have a restricted budget and fairly limited needs.
How does the basic version work?
Enter the app, the country or countries where it's to be promoted and a monthly budget, the ads are then created automatically to target the right people
Set the maximum budget or follow the Apple Search Ads' recommendation
Take advantage of an easy-to-use dashboard
Modify or pause your ads at any time
As you can see, this offer is fairly limited but will allow you to save time when you're getting started.
Advanced
This option is more advanced in terms of features: it allows you to manage your acquisition campaigns from A to Z, independently.
This solution is recommended for agencies, or developers who want to control the campaigns and audiences targeted in the ads. It's a much more specialised marketing tool.
The advanced version also works in a more complicated way:
Discover new keywords with Search Match, the feature that matches your ads with the most relevant searches in the App Store
Add your keywords: you can import your own keywords and a popularity index of similar search terms then enables you to find the keywords needed to promote your app
Determine the right audience according to age, location or type
Select the most relevant device(s): iPad, iPhone or both at once
Other features can be explored on the dedicated page of the advanced version.
With regard to pricing, you can set your campaign budgets and apply a daily maximum ceiling, if needed.
The pricing applied by Apple is based on a "cost per touch" basis (the equivalent of cost per click), with a maximum cost applied to each ad according to this rate.
Apple Search Ads: best practices
Targeting the right keywords
If you're using the advanced version of ASA, you can refine your keywords.
To select the keywords that are most likely to work, a real in-depth study needs to be carried out: what are users searching for? When you know the right search terms, you'll find conversion easier.
In addition, the search for the right keywords also requires you to think about your marketing, particularly the USP (Unique Selling Proposition) that you're offering to users.
By combining the expectations of these users and your USP, you'll succeed in selecting the most relevant keywords for your app.
You'll also find more specific keywords that are less competitive, and therefore less costly.
Choosing the right types of matches for keywords
Two types of matches are available for ASA: exact and broad. As their names suggest, the matches associate user searches with your keywords.
Exact match: enables campaign optimisation with a reduced number of keywords, displays the app in the case of an exact match between the search term and the keyword
Broad match: limited to advanced mode only, broad matches reach users who enter synonyms, or variants similar to the keyword. This broadens your target
Combining both types of match can be a good way to find out which terms systematically generate a conversion.
The right way to measure your results
Some KPIs can be mobilised to measure the performance of Apple Search Ads.
The TTR (tap-through rate): designates the number of times a user clicks on your ad, divided by the total number of impressions
The number of installs: monitor this figure over a given period to measure the effectiveness of Apple ads
The conversion rate
However, it is advisable to use a third-party tool such as Adjust or Kochava to measure conversions once the app is installed. Apple does not reveal the number of people who have clicked on the download link. Therefore, it's impossible to follow what happens after that single click.
Now you know all the basics of ASAs! Here at Arcane, we are experts in the Advanced version of the tool, and we can advise you on its use.