In a few years, the social network Instagram has become a go-to destination for sellers wanting to strengthen their digital image.
It is also an essential marketing tool, for building a loyal community, strengthening brand awareness as well as making more sales.
It is the latter quality that interests us the most!
The Shopping features mean subscribers can become customers. If, in the past, online traders would put links in their bio, they can now offer a sales experience directly from the platform.
And yet, Instagram has made a comeback!
Formerly, only bio links were allowed. Then, accounts were allowed to put links in Stories (provided that the account was verified with more than 10,000 subscribers).
It was in 2017 that shoppable (or "buyable") posts came to Instagram Shopping. At the time, it wasn't yet possible to buy directly on the platform.
A real turning point came about in 2020 with three tools in particular: Facebook Shops, Instagram Checkout and Live Shopping.
Today, we're going to explain how to use these tools to your advantage and give you a few tips to help you sell more via Instagram!
Why does Instagram enable you to boost your sales?
A few concrete figures will help you understand why positioning yourself on Instagram is truly essential for retailers and online traders.
Instagram has 21 million users in France: making it the third most popular network after YouTube and Facebook.
In May 2020, the number of Instagram subscribers represents 34% of internet users aged 15 and over, and 69% of internet users aged between 15 and 24.
For advertisers, other figures are very revealing, for example, 90% of Instagram users follow a company or a brand.
Advertisers can therefore take advantage of a huge audience on Instagram to reach and grow their community!
See these figures and lots of others on Digimind.
Three essential tools to help you sell more on Instagram
We're getting to the heart of the matter here: in 2020, Instagram took a new turning point in Social Selling, and we're going to explain why.
Facebook Shops
As the name suggests, this tool was launched by Facebook, the platform that owns Instagram.
With this new feature, advertisers can create online shops linked directly to their Instagram accounts.
These shops are free to create. You can also customise their appearance in line with your brand. Instagram allows you to import product lists (with photos, prices, descriptions etc.) to your shop.
The shops are created from Facebook Business Manager by the administrators. The prerequisites are as follows:
You must have a Facebook page and a business account on Instagram
You must have a catalogue managed from the same Business Manager account
When you've created your shop, you can link it directly to your Instagram business account. At this stage, the link to your Instagram shop will appear in your description.
If your online shop is launched correctly, this is what it could look like: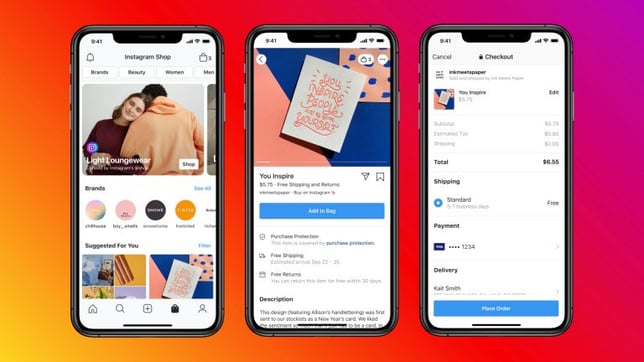 This option seems to be particularly relevant for small and medium-sized businesses whose e-commerce sites are not as developed as they would like.
Instagram Checkout
With "shoppable" posts, you can sell products without having to go by a shop. This feature makes Instagram a real e-commerce platform.
These posts enable you to feature a product or a service via a photo. A clickable tag on the photos allows users to interact with content that interests them and they are then redirected to a shop
Previously, it wasn't possible to buy directly from the app. With Instagram Checkout, the social network offers users the option to stay on the platform to make their purchase.
Below, the Checkout feature: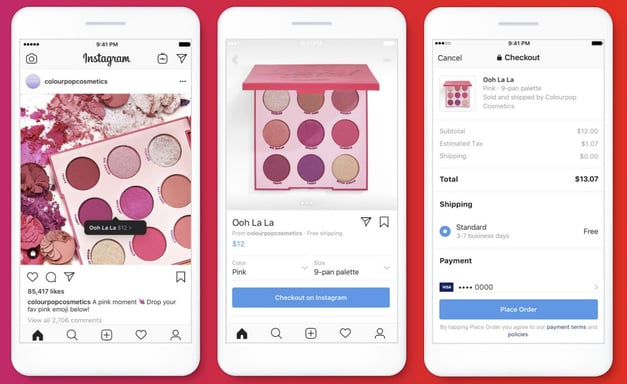 By offering brands the chance to increase their brand awareness and sell products, Instagram is positioned in the direct mindset of Social Selling.
The feature should remain free to advertisers for a while yet, because Instagram doesn't want to apply commission during the pandemic.
It's also worthwhile emphasising that once they have completed their purchase, users will be able to register their details on the platform to avoid having to enter them on every new visit.
Although the feature is similar to Facebook Shops, it differs in some respects. Firstly, it's a miniature version of online shops. Consequently, users can't view several products at the same time. Conversely, Facebook Shops offers the option to group several products within the shop.
Please note: The use of Instagram Checkout and Facebook Shopping also offers the option to retarget people who only went to these shops specific to Facebook.
Various interactions can be recycled (such as add to basket, product views, checkout initiated, etc.) There is therefore added value for brands who want to begin retargeting.
Instagram Checkout is a good way of getting started with Social Selling with a relatively limited environment.
Live Shopping on Instagram
To find out more about Live Shopping, take a look at our article! In a nutshell: it's a feature that makes it possible to buy a product on a live video via a CTA. This type of platform also enables direct interaction with the influencers who are presenting the products.
With Instagram Live Shopping, a CTA appears at the bottom of videos broadcast live on the platform.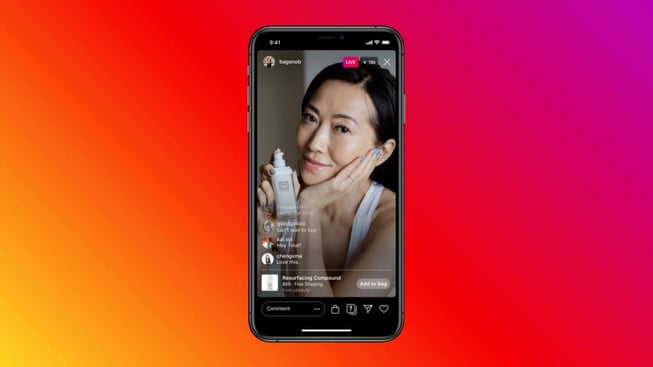 The CTA allows shoppers to add the product presented to their basket. The product is then either stored to be purchased later or bought directly via Checkout.
So, to use Instagram Live Shopping, advertisers must equip themselves with Checkout.
Three top tips to help you stand out from the competition
The vital role of influencers
Influencers have a fairly large subscriber base whose behaviour they aim to influence.
That's why their assistance can be valuable in putting your products in context and making them more attractive to your targets.
There are now numerous influencers with highly varied interests and loyal communities. Finding the right influencer means reaching the right targets.
Micro-influencers are particularly relevant with audiences of between 1,000 and 50,000 followers, and so an engagement rate that's often particularly useful to advertisers.
Depending on your needs, you're sure to find an influencer who's right for you!
Stories Highlights
Les Stories highlights ne sont pas du contenu éphémère, contrairement aux Stories traditionnelles.
Vous pouvez ainsi archiver certaines stories en haut de la page de votre entreprise. Vous tirerez ainsi profit de tous de la dimension dynamique du format "Stories" et de la durabilité d'une publication classique.
Enfin, si vous disposez de plus de 10 000 abonnés à votre page, vous aurez la possibilité de mettre des liens dans ces Stories highlights, accessibles en "swipant" vers le haut. Vous pourrez ainsi rediriger les utilisateurs vers un site e-commerce par exemple.
Getting the most out of Instagram hashtags
Instagram allows you to use up to 30 hashtags per post. They enable the hashtags to be arranged by categories on Instagram. They are essential to gaining influence on a theme, for example, or promoting a product on the platform;
The most important factor is not the quantity but the relevance of the hashtags: they should enable your target audience to find you easily.
Lastly, you also need to think about the originality and popularity of the hashtags you use, to avoid getting lost amongst all the other products in your sector.
You now know what it takes to increase your sales via Instagram!