LinkedIn is the social network with the biggest audience of professionals in the world. With LinkedIn Ads, brands can reach a B2B target in a precise and relevant way.
With over 20 million members, around 10 million of whom are active each month, it's the sixth biggest social network in the world! In addition, 840,000 French companies are on the platform, including many decision makers, particularly in the B2B sector.
As you can see, a good content strategy on LinkedIn is worth doubling with effective paid campaigns.
We'll explain how to get started in advertising on LinkedIn.
The Campaign Manager interface
What is the Campaign Manager interface?
That's where everything gets started! This interface allows you to create your campaigns and manage them by setting a budget and objectives.
Campaign Manager is like a dashboard where you can track your expenditure and the actions generated by your campaign.
Without this interface, it would be impossible to get started with LinkedIn Ads! A single account is usually enough, with certain exceptions (such as if you manage several companies as an agency, work for a company with several LinkedIn pages, or if billing requires you to separate campaigns by currency).
Please note: it is essential to link an advertising account with a LinkedIn page to get the best out of the different formats offered by the platform.

How to create a Campaign Manager account?
Getting started couldn't be easier!
Sign in to your LinkedIn account
Click on "Product" (at the top right of the page), then on "Advertise"
Choose your account name, the currency for billing (which cannot be changed), then link a LinkedIn page
All you have to do is create an account
The different types of LinkedIn Ads
Is your account ready? Congratulations! LinkedIn Ads offer a fairly wide range of possibilities in terms of types of advertising. Each of them has its own characteristics and formats.
Sponsored Content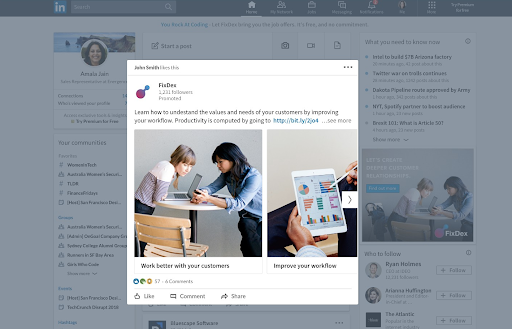 This first option allows you to post native ads in the newsfeed. It's only available for company pages, with its main quality being discretion!
By sponsoring a news item, you are highlighting your native content. Consequently, there's almost no distinction between organic and paid content. This makes the content more attractive and less intrusive.
Sponsored Ads provide great visibility, either by adding your own audiences or by exploiting LinkedIn profile data.
They are available in carousel, video or single image format.
Text Ads
They are a more traditional form of advertising that doesn't appear in the newsfeed, but to the side of the screen. Simple and effective.
These ads are paid for per click or impression, making budgets easier to manage.
They are an ideal way to drive traffic to a website or generate new leads. Conversion tracking then shows the effectiveness of a campaign
Dynamics Ads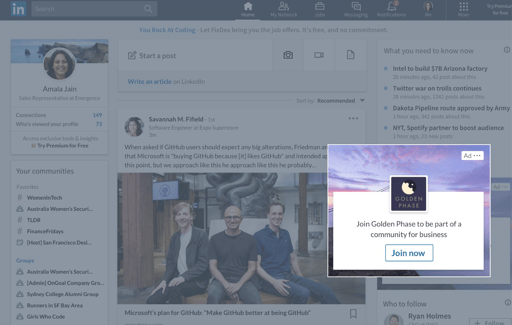 These ads are different in that they can be automatically personalised. To do that, the ads use data from the target's own profile, such as their photo or post occupied.
These ads trigger engagement by arousing interest through personalisation. Three different formats respond to three different needs:
Follower Ads: encourage users to like a showcase page or follow a page - all it takes is a single click
Spotlight Ads: to encourage an action, such as by promoting an event, for example
Jobs Ads: to increase the number of applicants for a post
Message Ads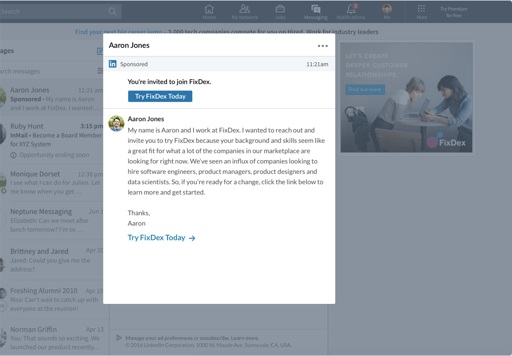 Ads that reach your prospects directly via LinkedIn messaging.
Although it's a method that may seem a bit intrusive, it does have advantages. Firstly, it allows you to reach the right people directly by encouraging them to take action rapidly.
It's also a good alternative to traditional email marketing, where you can adapt the message to the objective and rapidly measure your results.
Choosing an objective
With all those options, it really makes you want to get stuck in... However, before you can get started, LinkedIn Ads asks you to choose an objective. This objective is key: it helps LinkedIn to recommend the best format, as part of the best type of advertising for you.
Allow us to introduce them to you here.
Objective - Awareness
It's the simplest type of objective with a single sub-objective of raising "Brand awareness".
These are campaigns based on the number of impressions, designed to get an advertiser known about.
Objective - Consideration
This comes with three sub-objectives:
Website visits: to drive traffic to your website
Engagement: to increase interactions with your LinkedIn page
Video views: to share videos with more people
Objective - Conversion
This also comes with three sub-objectives:
Lead generation: to capture leads using a lead generation form pre-filled with LinkedIn members' data.
Website conversions: to capture leads specific to your website
Job applicants: to drive more applicants to your job offers
Feeling a bit lost? Don't worry, LinkedIn offers help by suggesting the best types of advertising with the best formats.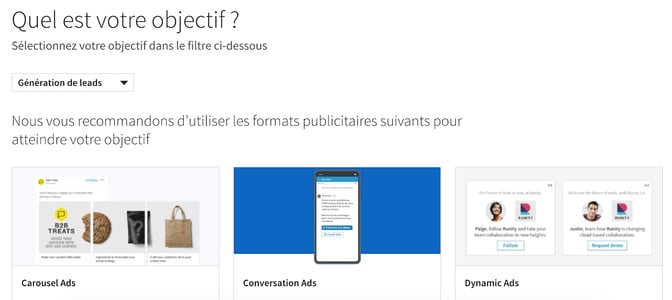 This is where it all happens!
Targeting options
If there's one thing that doesn't change with your choice of type of advertising, it's your targeting criteria.
Demographic and professional targeting
There are more than 20 audience attributes that enable you to choose the best targets, such as:
Size of company
Company name
Schools
Interests
Groups
Skills
Post
Seniority
Your audience must number at least 1,000 people for you to be able to advertise on LinkedIn.
Account Targeting
With Account Targeting, you can also import a list of the companies you're targeting into LinkedIn, so you can reach their employees.
Contact Targeting
Target an email list with Contact Targeting. LinkedIn requires a minimum of 10,000 email addresses.
The advantage: if you've got an Insight tag on your site, you can create retargeting campaigns on LinkedIn.
NB The Enable Audience Expansion option allows LinkedIn Ads to widen the targeting to include people close to your targets in terms of characteristics.
Campaign budgets
One thing that people often complain about with LinkedIn Ads is the cost.
To advertise on LinkedIn, you have to spend a minimum of 10 euros per day. In addition, the bidding system is a bit costly.
However, good budget management ensures you get a good ROAS!
The bidding is defined in three different ways:
CPS (Cost per Send): the advertiser pays for each message sent as part of InMail campaigns
CPC (Cost per Click): recommended for campaigns requiring engagement

CPM (Cost per Impression): recommended for brand awareness campaigns

The minimum price of CPC or CPM bids for Text Ads is €2. With regard to Sponsored Ads and InMail campaigns, the bid fluctuates at around €2.10 for the former and €0.10 for the latter.
The minimum bid is defined in line with the audience targeted by the system.
LinkedIn Ads also asks you to set the duration of your campaign, a daily budget and then a total budget.
Result measurement and conversion tracking
Have you launched your campaign? Another look at Campaign Manager!
Track your results via Campaign Manager
This interface now allows you to track the performance of your campaigns. To optimise these campaigns continuously, you can make use of the many available data.
The statistics are available by campaign or by ad. There are different ways of analysing the data, such as by demographic category.
LinkedIn Insight Tag: to take things a step further
Lastly, by installing the LinkedIn Insight Tag you can measure the ROAS of your campaigns by tracking the actions of prospects who have interacted with the CTA in an ad.
To do that, just install the famous tag on your website. It will then take care of tracking conversions, website audiences and demographic data tied to your LinkedIn advertising campaigns.
To find out more about adding this tag, go to the dedicated page!
You now know everything there is to know about LinkedIn Ads, an essential lever in today's world, particularly for B2B.